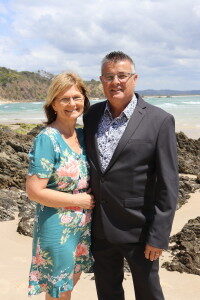 Rod was born in Nambour, is a mechanic by trade and has lived the majority of his life In Coolum and Maroochydore areas. He has served faithfully at CCF church since he was saved in 1983. He became Associate / Community Life Pastor in 1994 and stepped in the Senior Pastor role in late 2012.
Lynette was born in Auckland, NZ and has lived on the Sunshine Coast since late 1987. They were married Dec 1990 and have 4 wonderful children and 2 grandchildren who they are very proud of. Very early into their marriage God spoke very clearly to them that Coolum is where they were to serve.
Rod and Lynette have a heart to serve the local community and Church. Rod has earned the respect of the local community through his involvement with various community groups and projects.
Rod has taken part in short term mission's trips and is committed to seeing missions continue to be supported by the local church.
Both Rod and Lynette are proud to be part of the team that saw Coolum Beach Christian College established in 2004 and have enjoyed seeing the way the College has grown and flourished.
Lynette also holds an OMC (Ordained Ministers Certificate) with ACC and is actively involved in all church aspects.
Rod & Lynette enjoy camping, fishing, playing golf and spending time with family and of course the grandchildren!